Feature
Advanced Time Tracking
With the GUIDEcx time-tracking feature, your team can record employees' working hours and ensure they have been compensated accurately for their time. It can accurately track team members' tasks, a project's timeline, how long it takes, and how much it costs to complete. With this, providers better understand forecasting and gain valuable insight into the project's health.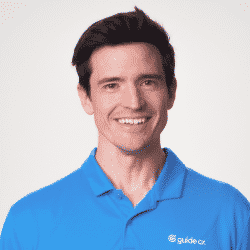 Harris Clarke, COO at GUIDEcx, points out that every customer starts a new onboarding experience with questions: Am I going to get what I need from it? Will the value I get be worth the effort and expense? This time-tracking feature does just that.
"Giving them a full view of the process will help customers feel confident and understand what your team will be doing," says Harris. "If customers know all the steps you plan to complete and what they need to deliver, it will also be easier for them to articulate anything that might be missing. That sets you up to provide even more value and create a stronger working relationship."
"One of our goals with advanced time tracking was to make it fade into the background and become a natural part of your workflow, said Jon Niu, senior product designer with GUIDEcx. "With the time-saving additions and redesign of the way time is entered, along with time entry being triggered upon task completion, it has never been easier to track time against your tasks and projects."
Billing Profiles
Custom billing profiles can be configured for any package or service you might offer in Company Details > Settings, and are then selectable when creating a project for easy time tracking and billing. Specify allotted hours and rate (depending on billing type):
Flat Fee: Set a flat fee for a project

Hourly – Single Rate: Charge a standard, hourly rate for time worked on projects

Hourly – Categorized Rate: Charge for time worked on projects, but hourly rate depends on type of work
Use custom billing profiles to:
Standardize and cut down set up time for repeatable projects

Set proper expectations with your customers regarding rates and allotted hours

Bill overages if you choose to charge an additional rate for hours overs worked beyond allotted hours
"By utilizing our advanced time tracking, you can see both the cost and profitability of each individual project," Niu explained. "Utilizing our Billing Profiles will make it even quicker to add profitability metrics to your projects and enable advanced reporting capabilities."
Categories
Categories are relocating to Company Details. Set up categories with custom rates based on type of work performed to allow for more billing flexibility, and track both billable and non-billable time to understand all costs associated with onboarding. If you are currently using categories for time tracking, these will be automatically transferred to their new home in Company Details > Settings.
Time Editing Options
Admins and managers can set time editing privileges in company settings. New options include:
Users may edit Time Entries for current month only

Users may edit Time Entries for inflight projects only
Time Entry
Enter exact minutes and see # of hours logged for the week in the redesigned time entry modal

Users can now add time to a project by clicking the 3-dot menu on the top right of the project plan page, or on an individual task in the project plan

In the Time Entry Sheet, you'll now see group or event tasks you're a participant on
Reporting and Insights
Newly added reporting helps you identify how efficient your team is, where most time is being spent, and project probability factoring in load cost.
Advanced Time Tracking Report

(found in Reports):

Features Hours Worked by Task, Hours Worked Trendline, Hours Worked by Category, Hours Worked by Person, Hours Worked by Project, Average Cost per Project, and Average Cost per Template.

Project Overview: View hours, costs, billing, and profit for your project
What Our Customers Are Saying on G2
Powerful, Purposeful, Seamless Integrations
Connect 1,000+ applications to GUIDEcx so you can increase automation and keep projects simple.
300k+ Projects Successfully Completed on GUIDEcx
Join the ranks of companies providing stellar customer onboarding experiences.
Talk With A Guide Today!
Discover how GUIDEcx can help you improve efficiency by reducing your customer onboarding timeline and increasing the capacity of your project managers. Our industry-leading customer onboarding solution is supported by our unparalleled professional resources and unwavering commitment to excellence.