Have you ever put hours into a project without realizing it? Or worse, have you ever put lots of time into a project without having much to show for it? Without keeping track of time, we miss out on valuable information and better project results that can benefit us, our teams, and our clients. Just as putting a timer on the oven is essential to preventing failure and wasted ingredients in the kitchen, keeping track of time on work projects, especially onboarding, can prevent wasted resources and budget in the workplace.
For SaaS companies, client onboarding and time tracking should go hand in hand. Onboarding new clients usually takes somewhere between 30 and 90 days, which is a long time for your efforts to go undocumented if you're not time tracking. Luckily, our onboarding software is now equipped with time tracking capabilities, making it much easier for you to record and analyze key data that can help you optimize your onboarding process.
As you learn how project management and time tracking software can shorten time-to-value, better allocate resources, and improve both the client and employee experience, remember the following takeaways:
Time tracking allows companies to link customer churn to implementation time, understand their resource allocation, and create accountability and employee fulfillment.

Time tracking speeds up the onboarding process by creating opportunities for goal-setting, dynamic resource allocation, and process preparation.

Editability, allocation, and weekly/monthly views are important features of time tracking.

GUIDEcx's time tracking feature can improve your onboarding process by allowing you to track team members' tasks, project timelines, how long projects take, and how much they cost.
By learning how time tracking is important, how it can speed up the onboarding process, its most important features, and how GUIDEcx's time tracking software can improve your onboarding process, you will have all the tools you need to dramatically improve the onboarding experience at your company.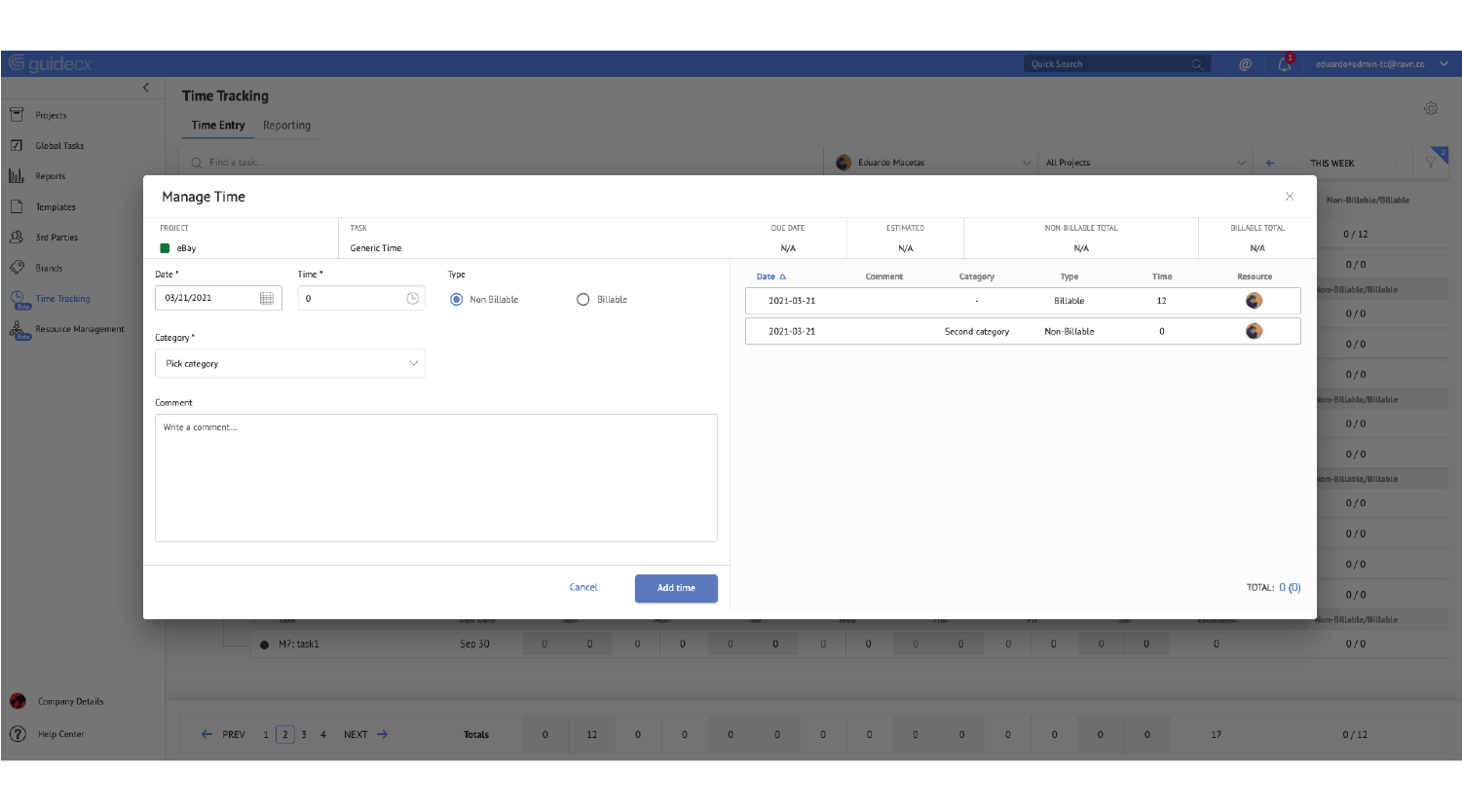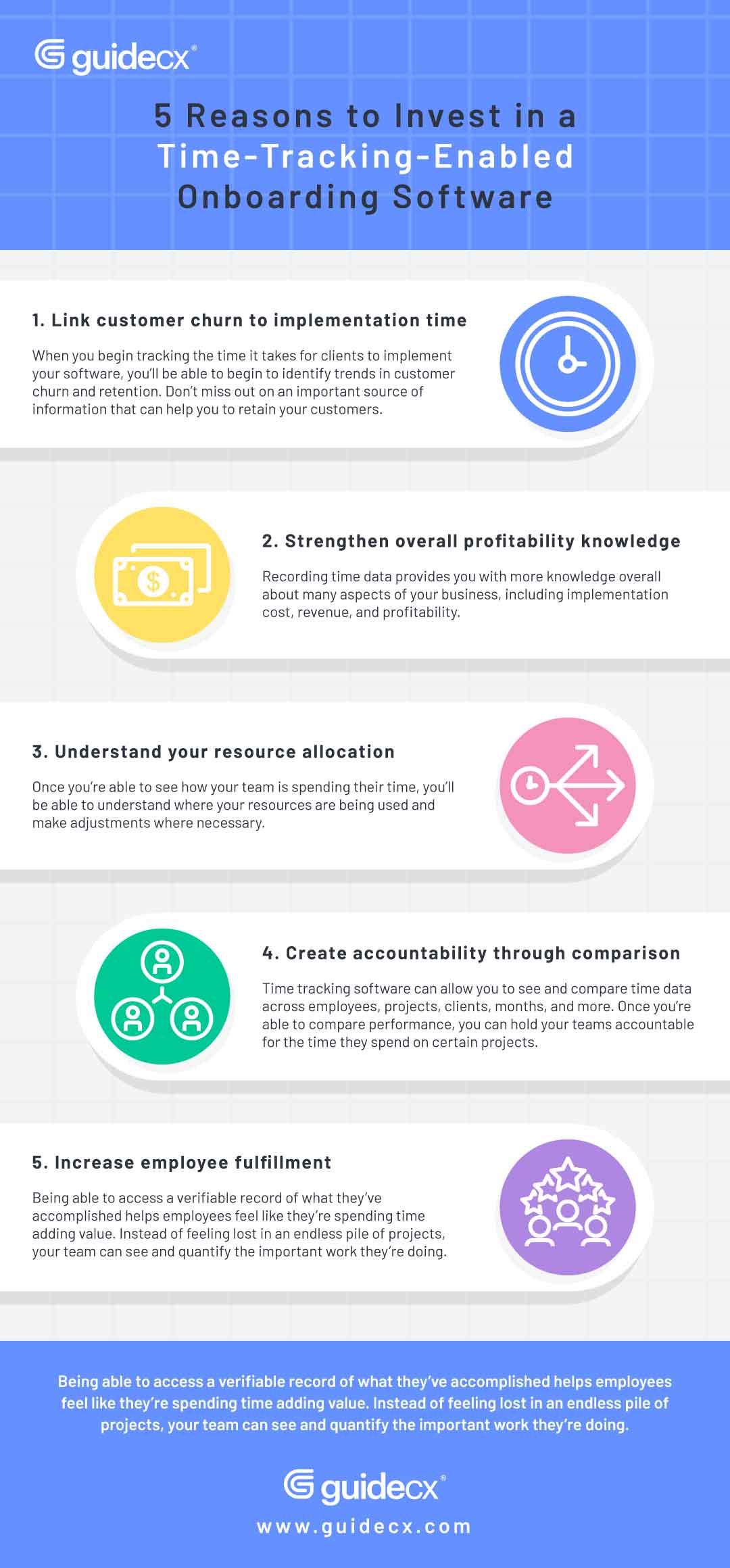 Why Bother with Time Tracking?
Most business leaders will likely agree that it's better to over-record rather than under-record business data. Time spent on company projects is especially important to keep track of as it can determine everything from employee paychecks to budget allocations. For client onboarding especially, time tracking is important for understanding the connection between customer churn, resource allocation, profitability, accountability, employee satisfaction, and implementation time. 
Here are several reasons why you should choose to invest in a client onboarding software with time tracking:
Link customer churn to implementation time:

When you begin tracking the time it takes for clients to implement your software, you'll be able to begin to identify trends in customer churn and retention. Without recording this data, you may miss out on an important source of information that can help you to retain your customers.

Strengthen overall profitability knowledge:

Recording time data provides you with more knowledge overall about many aspects of your business, including implementation cost, revenue, and profitability. 

Understand your resource allocation:

Once you're able to see how your team is spending their time, you'll be able to understand where your resources are being used and make adjustments where necessary.

Create accountability through comparison:

Time tracking software can allow you to see and compare time data across employees, projects, clients, months, and more. Once you're able to compare performance, you can hold your teams accountable for the time they spend on certain projects.
Increase employee fulfillment: Being able to access a verifiable record of what they've accomplished helps employees feel like they're spending time adding value. Instead of feeling lost in an endless pile of projects, your team can see and quantify the important work they're doing.
How Time Tracking Can Speed up the Onboarding Process
The best onboarding experiences are quick, thorough, and efficient. However, it's hard to optimize your onboarding process if you don't know how long the steps should take, how long they're actually taking, and where your team is at in accomplishing them.
Using client onboarding and time tracking software is a great way to speed up the onboarding process. Here's how:
Goal-setting:

Once you're able to see how long certain aspects of a project take, you can set goals for improvement on time. Setting goals is the first step in improving any project and can help you and your team stay motivated to get things done on time.

Resource allocation:

By identifying which parts of the onboarding process take longer and which are easily accomplished, you will be able to understand how you should adjust your resource allocation. By making these adjustments, you will be able to add more support to the areas that are lacking and speed up the onboarding process.

Prepare next steps:

Being able to time-track in the onboarding process can also help your team to be proactive in supporting each other in their responsibilities. Once you can see where your team members and clients are at in certain parts of the process, you'll be able to prepare the following steps for them beforehand so that no time is lost in the onboarding process.
Important Features of Time Tracking
While simply having project management and time tracking software is a great start to improving your onboarding process, several key features can set great time tracking softwares apart from the rest. The ability to edit, allocate, and view your time tracking however you need to is essential for truly effective time tracking. Once you begin using software with these abilities, you'll be able to improve your client onboarding process in no time.
Editability:

Client onboarding software with easily editable time tracking will be the best for your business. This feature allows you to alter your recorded time if you or someone else happens to make an error on your timesheet. By allowing for quick fixes of your time record instead of requiring employees and clients to make changes through a certain administrator, you'll save lots of time and resources.

Allocation:

In your time tracking software, having an option to allocate a certain amount of time to specific tasks is a great planning resource. Having the ability to assign the amount of time you think tasks should take can help you prepare yourself and others to meet important goals.

Weekly/Monthly View:

With the option to see how much project time has been spent each week and each month, you will be able to quickly identify where to adjust to make sure company goals are being met.
Why GUIDEcx's Time Tracking can Improve Your Onboarding Process
Now that you know how client onboarding software with time tracking can speed up and improve your onboarding process in a variety of ways, let's take a look at GUIDEcx's time tracking capabilities:
Team members' tasks:

With GUIDEcx's client onboarding and time tracking software, businesses can track which tasks are assigned to team members, their progress on those tasks, and how much time they've spent on the tasks. These features make it easy for managers to complete payroll and analyze employee performance.

Project timelines:

GUIDEcx's software also makes it possible to create and track project timelines. By keeping track of the time spent on certain tasks within the onboarding project timeline, managers can easily make adjustments where needed.

Project length:

Keeping track of the amount of time spent on onboarding projects also makes it easy to anticipate and manage project length. GUIDEcx can provide you with the tools you need to control and adapt the length of your projects with ease.

Project cost:

Managing your project budgets well is a major aspect of maintaining your client relationships. The onboarding process is the first opportunity to demonstrate that you are adept at tracking and managing costs. GUIDEcx's time tracking software can help you do this by allowing you to instantly see how much time and money have been spent and avoid over and underspending.
Through each of these GUIDEcx time tracking features for onboarding, your company will have a better grasp on forecasting and gain important insight into the health of the onboarding project. As you seek to implement project management and time tracking software into your onboarding process, you will be able to speed up the onboarding process and use the software's essential features to improve the overall experience and efficiency for your clients and employees.