GUIDEcx is the #1 Rated Client Onboarding Software
Our customers love us for our customer service and how we enable our users to engage their customers. See how we specialize in customer onboarding, task management, and project management.
New Customer Dashboard Headlines our October Release
The industry-leading Customer Dashboard sets your customers up for success. Other new features include the Integrations Marketplace, Status Change Reasons and CSAT. These features reflect our deep commitment to understanding and addressing the needs of our customers so they can provide a best-in-class onboarding experience. Read our blog for a full overview of the new features.
Your Guide to the October 2022 Release
Join us on Wednesday, Nov. 9 at 3pm ET as our CTO and product managers will Guide you on a deeper look at the key Q4 product features including Customer Dashboard, Status Change Reasons, Integrations Marketplace and CSAT. There will be a Q&A session at the end so our team can answer any specific questions you may have.
Why a Client Onboarding Software?
You only get one chance to make a first impression to your customers. A smooth, transparent SaaS onboarding process is key to putting your best foot forward.
Engage Your Customers in a Transparent Client Onboarding Process
With our customer-facing onboarding portal, customers, clients, and third parties have a space to coexist and communicate.
Build trust and awareness by white-labeling GUIDEcx to fit your company's brand. You'll get all the professional credit.
Manage Internal and Customer Onboarding Tasks
Customers don't need to know all of the behind-the-scenes work. If there are internal processes that you want to keep private, you can manage customer visibility settings.
Assign tasks to customers, internal team members, and third parties to make sure the right people get the right tasks done at the right time.
Drive Client Onboarding Revenue
With GUIDEcx's Intelligent Forecasting Algorithm, you can predict revenue on hold, see what client onboarding projects can be brought forward for end-of-month or quarter deadlines, and more.


See how our customers saved time by 49% with a new client onboarding software
reduction in implementation time
increase in project manager capacity
on-time delivery rate when 5+ users are invited
What Our Customers Are Saying
GUIDEcx allows us to take what our best implementation specialists are doing and duplicate that across our whole customer success team. The result: a more engaging, predictable, and streamlined customer experience. Net Promoter Scores have skyrocketed.
— Chad Estes —
SaaSOptics
The killer feature of GUIDEcx is the transparency and collaboration it gives you with your new customers during onboarding. I've used a number of tools throughout my career, and nothing compares.
— Tayler Ursu —
SMedia
GUIDEcx is the solution we have been looking for! I love the intuitive interface, the ease of implementation, and the automation that has helped to dramatically increase our efficiency. I love that our customers now have additional transparency into our processes and know exactly what they need to do and when to help keep the project on track.
— Cody F. —
Lakebridge Realty
The whole GUIDEcx team is quick to respond. They are quick and eager to help, and the support they offer is great.
— Dominic Ireland —
G&A Partners
GUIDEcx has allowed us to do the heavy lifting and take care of the difficult projects. Without GUIDEcx, we wouldn't have been able to get it all done. 
— Emilee Krupa —
Alleva
Deliver Value Faster with GUIDEcx Client Onboarding Software
Reduce Anxiety, Increase Participation
Complete Control over Visibility Settings
No Login Required for Participants
Complete Tasks via Portal, Email, or Mobile App
Increase Team Accountability
Automate Project Updates, Tasks, and Reminders
Invite, guide, and engage internal and customer teams throughout the customer onboarding process.
Internal Teams
Teams know what needs to be done, who is accountable, and who needs help. We increase team efficiency and bandwidth, which leads to greater output and satisfaction.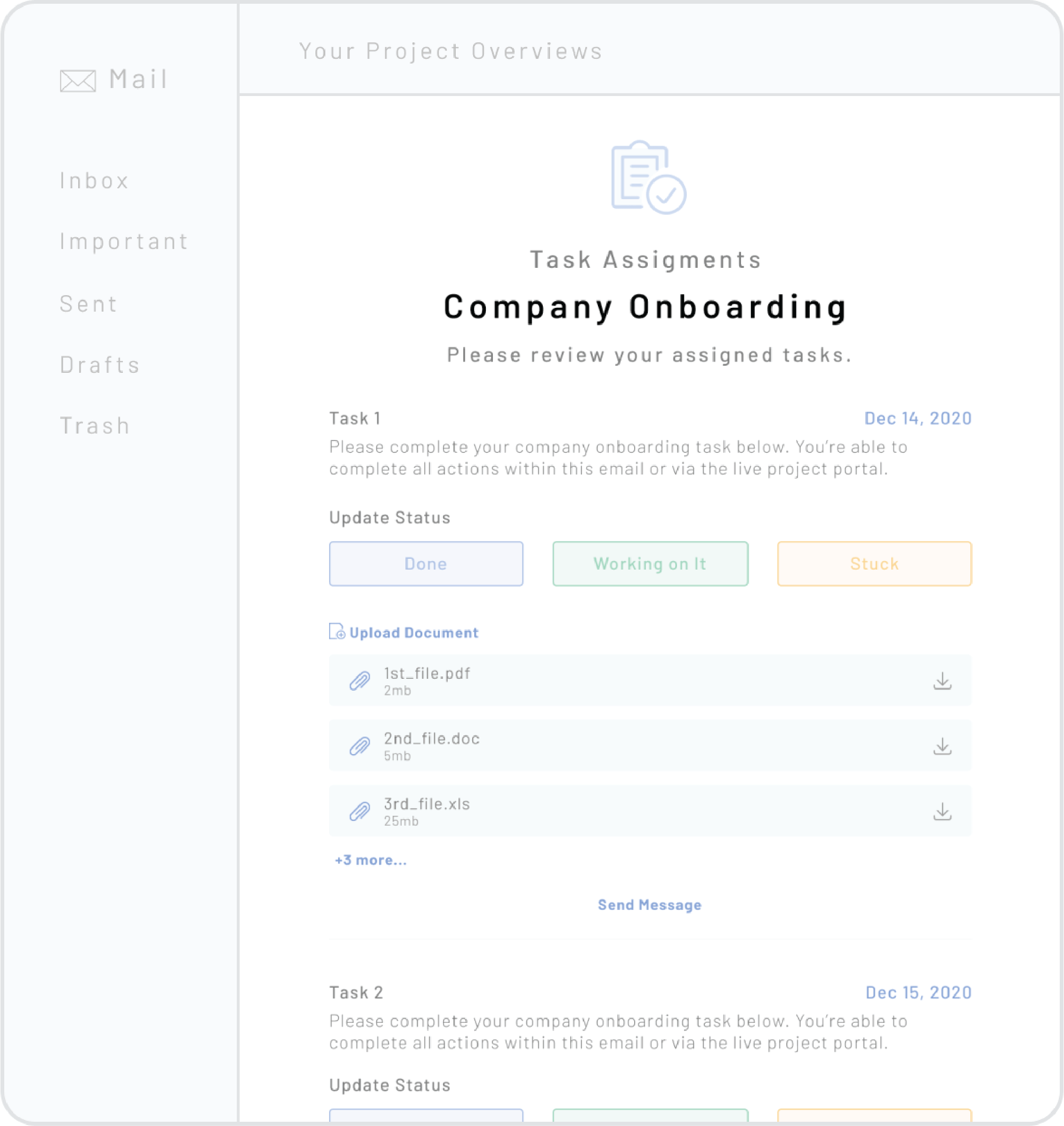 External Customers
Your customers know what to expect, when to expect it, and with whom to communicate. We increase customer insight and accountability, which leads to greater satisfaction.
A SaaS onboarding software that keeps your customers at the center of every project.
GUIDEcx, the category creator and world leader in customer onboarding, just upped their game with the introduction of Recipe Builder.  Recipe Builder is an integration platform as a service (iPaaS) environment, native within GUIDEcx, that allows you to build custom...
Start Using a Client Onboarding Software Today!