When it comes to the automotive industry, being smooth, fast, and efficient isn't just desirable for the automobiles themselves. Each step in the dealer onboarding process should be just as polished as the customer's new ride. This process is critical to ensuring that your autotech clients are ready to make the most out of your software—not to mention making the profits they're trusting you to produce.
But, how can you create a dealer onboarding process that runs like a new Mercedes? The key lies in client onboarding software. Just as the newest hybrid, Bluetooth, or self-driving technology can make your ride more pleasant and efficient, onboarding technology can do the same for your autotech business. 
If you don't have time to take the scenic route and read all about improving the dealer onboarding process, just remember these key takeaways:
Client onboarding software makes autotech onboarding simpler, faster, and more interactive and transparent.

The most important client onboarding software features for autotech are automation, tracking, and accessibility.

When onboarding autotech clients, remember to learn how they plan to use your product, anticipate potential pushback, and help them see value early.
As you implement these features and practices into your dealer onboarding process, you'll transform your onboarding clunker into a well-oiled machine.
Benefits of Using a Client Onboarding Software in the Autotech Industry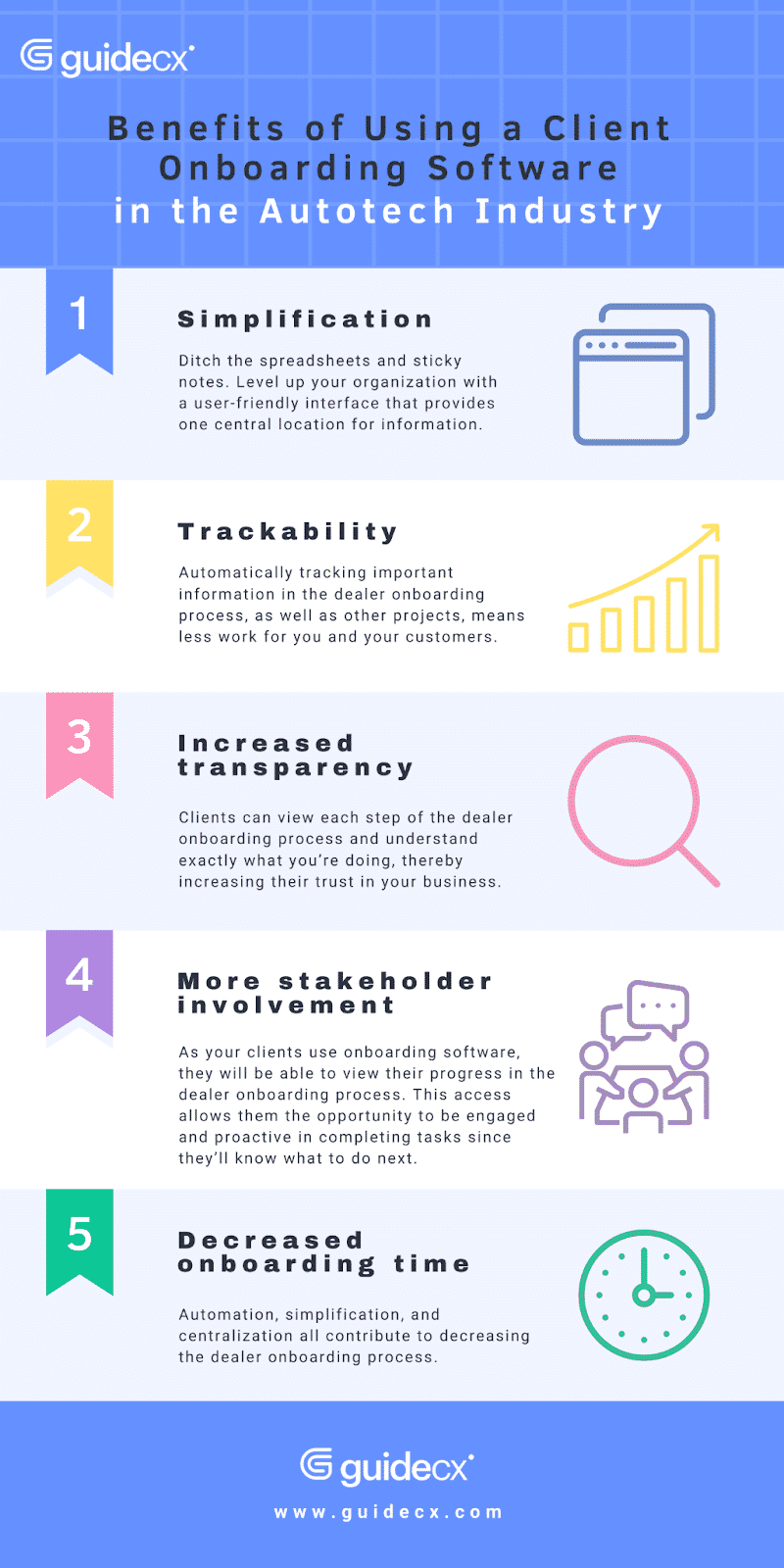 If you're part of the autotech industry, chances are you value simple, trackable, and quick processes as part of your client interactions. Since dealers are focused on making sales, they also need the dealer onboarding process to be fast and straightforward. Client onboarding software can provide autotech companies and their customers with the efficient solution they're looking for. 
Here are some of the benefits of using a client onboarding software in the autotech industry:
Simplification:

Does your office use a wide variety of spreadsheets, documents, and even sticky notes to keep track of information? If so, you could benefit from client onboarding software. With a user-friendly interface that provides one central location for your important information, client onboarding software can raise you to the next level of convenience and organization.

Trackability:

Both autotech companies and their clients need to keep track of a lot of data quickly. Client onboarding software can automatically track important information in the dealer onboarding process as well as other projects, meaning less work for you and your customers.

Increased transparency:

With client onboarding software, clients can view each step of the dealer onboarding process and understand exactly what you're doing for them. Since they'll be able to easily access all of the information about your partnership, their trust in your business will increase.

More stakeholder involvement:

As your clients use your client onboarding software, they will be able to view their progress in the dealer onboarding process. This access allows them the opportunity to be engaged and proactive in completing tasks since they'll know what to do next.

Decreased onboarding time:

Automation, simplification, and centralization all contribute to decreasing the time it takes for clients to complete the dealer onboarding process. 
Improving the dealer onboarding process is made easy with client onboarding software. By making your autotech company quicker, simpler, and more efficient, client onboarding software can be invaluable for your business.
Most Important Features to Look Out For

All of these incredible benefits are provided by a variety of important features. While client onboarding software provides many valuable tools, several are especially necessary for autotech companies:
Automated tasks and reminders:

Through automation, mundane tasks and reminders can be generated and shared instantly, without human interaction. This feature can free up lots of

time and money

for other projects that require more brainpower.

Project and task tracking:

Project tracking is essential to organization. With the ability to see task responsibilities, status, and more, you'll streamline your processes in no time.

Client visibility:

When clients can view details about the dealer onboarding process and access the same information that you can, coordination and transparency become inherent to your business interactions.

Mobile access:

Nowadays, mobile access is a must-have for all kinds of software. Dealer onboarding software is no exception. With mobile access to autotech onboarding software, autotech companies and clients can view and manage important information wherever and whenever they need to.

No login needed:

Another great client onboarding software feature for autotech companies is the ability to operate the software without logging in every time. Without required login information, you'll be able to access needed information in no time!
As you look to begin implementing client onboarding software at your autotech business, don't forget to prioritize the key autotech features of automation, tracking, and accessibility. As you do, you'll improve the dealer onboarding process like never before.
An Autotech Success Story

Now that you know why client onboarding software is so beneficial to improving the dealer onboarding process, let's take a look at a real example of how it has benefitted an autotech business not so different from yours.
Before autotech company sMedia began using client onboarding software, it struggled to convert free trials into sales due to its long, overwhelming dealer onboarding process. Manually sorting through emails caused the company to spend much more time on administrative tasks than implementing customers. 
However, after implementing client onboarding software, sMedia was able to decrease its onboarding time by 30 percent and increase its capacity by 60 percent, allowing them to spend more time on other important tasks. As sMedia let client onboarding software shoulder its administrative burdens, the dealer onboarding process greatly improved.
Client Onboarding Tips for Companies Selling to Automotive Dealerships

With information on the best autotech client onboarding software features, benefits, and examples, you're ready to make some major improvements to the dealer onboarding process at your autotech company. However, while client onboarding software can take you far, it's still important that you prepare yourself adequately for potential challenges that may surface during the dealer onboarding process. To help you improve this process even further, here's a checklist of some additional actions to take to prepare yourself to onboard a new dealer:
1. Understand How They Plan to Use Your Product
Whether your product is an inventory management system or a sales training course, you should make sure that you understand exactly how your client plans to use it. This way, when confusion, questions, or complaints arise, you will know where the client is coming from and be able to provide effective solutions to their concerns.
2. Anticipate Potential Pushback
Many dealerships have been operating the same way for years, so some stakeholders may be hesitant to adopt a new workflow that disrupts their normal routine. Make it easy for them to overcome these concerns by establishing clear and regular communication about their concerns and creating a process that is quick and easy to implement and manage.
3. Help Them See Value Early
Your clients are working with you for the value you can provide for them—help them see that value quickly. As you demonstrate your company's worth, your clients will be eager to invest in their relationship with you and remain satisfied with your services. 
Creating a smooth dealer onboarding process doesn't have to be hard. The GUIDEcx platform can help your autotech company succeed in reducing onboarding time and costs, improving client relationships, and creating processes that are simple, trackable, and interactive. 
Visit GUIDEcx.com to learn how to do all of this and more for your autotech company.